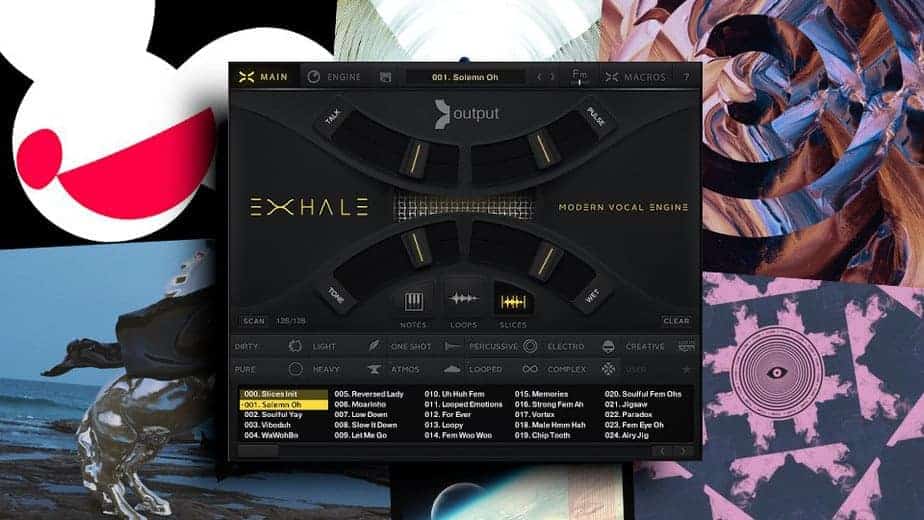 Exhale by Output Review
$199
Modern Vocal Engine VST
With the endless sea of VST options available, we seldom witness the creation of something as pure and beautiful as Exhale by Output . This vocal processing engine is truly a thing of beauty. The hard work and effort that the Output team has put into this masterpiece shine with every click and button push.
We all know that being music producers, it is almost impossible to find a high-quality vocalist that will happily record vocals for our tracks. Well, Exhale by Output isn't a vocalist, but it definitely is the next best thing. With such a large variety of vocal samples, this VST has something to please everyone.
Pros
Sounds fricking amazing
500 preset loops, notes, and slices
Vocal processing engine
Beautiful user interface
Professionally recorded samples
Cons
Comes with a price tag
CPU heavy
Is Exhale by Output for you?
Do you like using vocals in your tracks? If you answered yes, Output Exhale is a weapon you must add to your arsenal. Whether you are looking for a poppy lead vocal loop to be the star of your track, or you are looking for some dreamy ethereal backing vocals to add to your build, there is something for everyone in this stunning VST.
Exhale is good for:
Vocal Chops
Dreamy Vocals
Ethereal Vocals
Landscape Vocals
Vocal Loops
Backing Vocals
Artists who use Exhale by Output
Glitch Mob
John NYE
Beck
Chris Lake
Skill Level
Exhale by Output is for Beginner to Advanced users.
Beginner – Probably the best part of Exhale is everything sounds stunning straight out of the box and you will learn this with the very first note you press. All samples have been professionally processed by the Output team, allowing the user to implement the samples without any external processing, making this VST perfect for beginners. Simply select the key of your song and you are set.
Advanced – Output is so much more than just another sampler. Its powerful vocal processing engine provides the ultimate control to more advanced users allowing them to completely manipulate the sample in whatever way they wish using typical sound manipulation tools such as filters, panning, delays, reverbs, saturation, and many more.
You can think of Exhale as a synthesizer using 2 oscillators (2 vocal samplers) that can be manipulated in a very similar way as a software synthesizer.
How does it sound?
Do you know when you can't think of the correct words to describe what you have trapped inside your mind? This is what I am experiencing right now so here is a video instead.
There are hundreds of thousands of samples and vocal samples out there in the interwebs, its difficult to come across very high-quality samples. Well, this is not the case for Output Exhale. Every one of its 500 samples has been recorded to the utmost perfection making it sound pristine and shiny.
On top of that, we have a seamless vocal processing engine that allows the user to manipulate the already perfect sample into something that is unique to them but still contains that pristine and professional sound.
Output has defiantly tried to make things easier for the user.  Every loop or sample automatically adjusts to match your songs BPM, and the key can easily be changed by selecting what key your song is in from a simple key selection menu.
Presets

As we mentioned before, Exhale contains 500 unique presets with a total of 10gb raw material. Wowzers!!
Every one of its 500 presets sound completely different from samples ranging from catchy vocal hooks to deep dark evolving soundscapes that seem to transform you into another dimension. This sparse variety is what gives this VST a place in every music producer's collection.
Let's stop talking about how amazing it sounds and listen to a few presets.
What makes it stand out?
Every great VST plugin has a feature that allows it to shine and stand out amongst the thousands of VST plugins out there. Can you guess what Exhales is? That's right. The vocal processing engine.
The vocal processing engine is designed to give absolute control to the user and includes:
2 x Vocal sources
Rhythm Control via LFO or Step sequencer
Panning
Filter
Phaser
Talk Envelope
Saturator
Pitch control
Distortion
Delay
Reverb
And many more
Exhales vocal processing engine behaves just like a synthesizer and contains other controls such as glide, velocity, tuning, envelopes, and EQ.
I'm sure you can imagine what can be achieved with the level of control that Output has given its users.  The possibilities are endless.
The Interface
My jaw dropped the first time I saw the Exhales user interface. The dark background and techno color bright yellow really complement each other giving it a futuristic feeling. It kind of reminds me of Tron Legacy with its sleek curves and futuristic textures.
Aesthetics aside, the practicality of the interface is simple and easy to navigate with all presets and main controls available on the 'Main' tab, and the effects and engine controls available on the 'Engine' Tab.
Main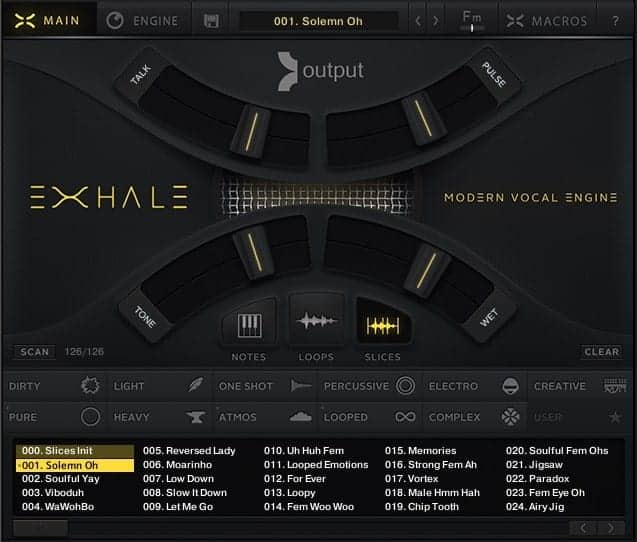 The main tab consists of 4 faders that have been set to control specific effects. These faders can easily be set to control different features. They can also be mapped to your MIDI device for ultimate hands-on control.
All presets can also be seen in the main tab. Searching these presets is made easy by the use of the filter options. There are 3 main types of samples available in Exhale.
Each type can be filtered by selecting the desired settings. For example, if you are looking for a warm, dirty lead, simply click the 'Warm', 'Dirty', and 'Lead' buttons and voila… You are presented with a list filled with warm, dirty leads.
Engine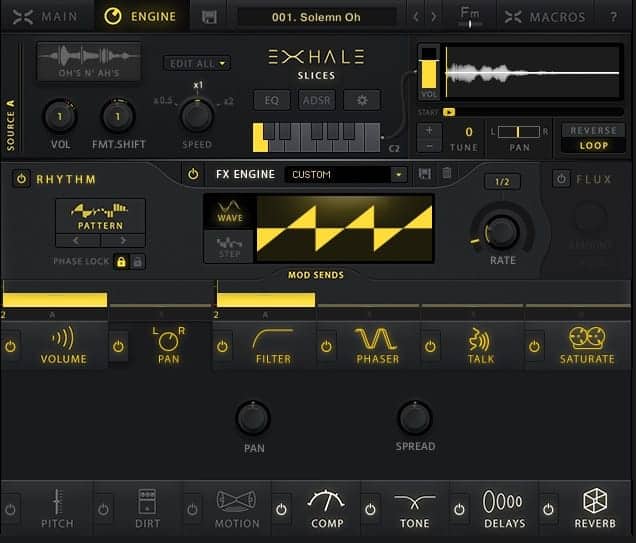 Let's take a look at the Engine interface. It is also designed to be intuitive and to make the users experience as easy and fun as possible all while maintaining the Tron feeling. I think I might watch that movie after writing this.
At first glance, the bright colors and shapes might feel a little overwhelming for the beginner but in time the simplicity shines through.
Each type of sample has slightly different controls but remains mostly the same. Here you will find all the effects that can be toggled on or off with a simple click. Click the effect will open its controls and allow you to change what you wish.
The deeper you dive into this VST the more you will discover and the more you realize the power of this modern vocal engine.
System Requirements
Exhale runs in Kontakt or Free Kontakt player version 5.3.1 or higher.
Mac OS X 10.7, OS X 10.8 or later.
Windows 7 or later.
At least 4 GB of RAM (8 BG recommended), and 9.2 GB of free drive space.
Access to a stable internet connection for digital delivery and activation.
Other Resources
Output has some resources available on their website that can help you understand how their VST functions. Otherwise, if you find yourself scratching your head in confusion, you can always jump on YouTube and spend countless hours watching tutorials.
Or if you want to contact me you can do so right HERE.
Summary
Ask yourself this simple question.
'Do I want vocals in my music?'
If the answer is yes, you should seriously consider purchasing Exhale by Output. The high-quality vocal loops alone will greatly improve the quality of music you producer, and when you learn to use the modern vocal engine, it will open up a whole new realm where you can spend countless hours experimenting with weird and unique sounds.
I know the $199 price tag is quite high, but well worth it if you are using vocals in most of your tracks. Any Pluginboutique.com links are affiliate links, so if you decide to purchase, I will receive a small percentage of the sale at no extra cost to you.
If you are interested in checking out some of my other reviews, you can do so below:
As always, good luck and happy producing.