Xfer LFO Tool Review
Every music producer should own some form of LFO tool, but should it be the Xfer LFO Tool? Well, it all depends on what you are wanting to use it for right?
Xfer LFO Tool is a third-party VST plugin by Xfer Records. It's sleek design and simple user interface make using this VST super intuitive and fun, even for an intermediate user. Containing a fully customizable Low-Frequency Oscillator and over 100 presets, LFO tool is a great VST to add to your collection.
This is what we will be covering in this article
Pros & Cons
Is Xfer LFO Tool for you?
Artists who use Xfer LFO Tool
Skill Level
How does it sound?
Presets
What makes it stand out?
The Interface
System Requirements
Other Resources
Summary
Pros
15-minute Trial
Can be used to automate audio samples and MIDI
Fully customizable LFO shapes
Simple user interface
Light on CPU
Cons
Outdated interface
Note retrig is a pain in the arse
Is Xfer LFO Tool for you?
Xfer LFO Tool is for you if you:
Are an intermediate to advanced user.
Produce music with a lot of modulation.
Want to fully customize your sidechaining.
Want an extra tool to aid in sound design.
LFO tool is a very simple plugin that can be used as a mixing tool or as a creative tool. Because of its ability to LFO controls such as volume, a lot of music producers use this VST as a customizable way to add sidechain compression but that is only one purpose.
There are many other ways one can use LFO tool and some of those include sidechain compression, volume LFO, filter cut off LFO, or to simply use one of the in-built filters.
I personally use LFO Tool because it adds another dimension to my sound design and allows me to achieve slightly different results from using the default effects of my DAW.
Artists who use Xfer LFO Tool
I'm sure there are artists out there that use Xfer LFO Tool on a daily basis, but here are a few that I have seen stumbled across over the years.
Glitch Mob
What So Not
Will I Am
Justin Bieber
Steve Duda obviously
Skill Level
Intermediate to Advanced users
LFO Tool uses terminology that a beginner might not understand, and this can make using this VST a little difficult.
Terminology such as LFO Routing, PWM, LP, HP, BP Filters, Note retrig, etc. A beginner simply does not understand what this terminology means, thus intermediate to advanced users will benefit from LFO tool the most.
I have personally owned this plugin since its release back in 2011 when I was still learning and can say that I did get some good basic use out of this tool, although I can't say that it really helped me improve my skill as a producer as I did not have the skills to use it to its full potential.
Now as a more advanced user I can harness the full power of Xfer LFO Tool and really push its limits.
Below is a video of Xfer LFO Tool in action.
How does it sound?
One of the most impressive assets LFO Tool acquires is its beautiful sounding filters that all sound super clean and crisp.
Straight out of the box you can slap this VST onto any of your tracks and start getting some pretty interesting results.
With some slight knowledge on filters, it's quite easy to make your synths wobble with a nice juice low pass filter or to even add a perfectly customized sidechain effect to your kicks.
Presets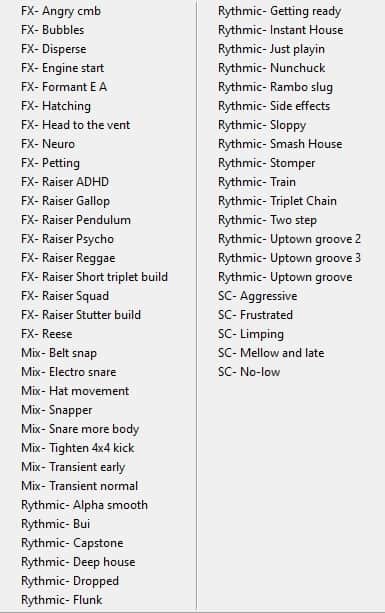 LFO Tool is jam-packed with over 100 presets that are ready to slap onto your track straight out the box. This is probably the best feature for the beginner user as creating some cool effects can come from clicking through the presets folder.
Obviously LFO Tool contains all the typical filter shapes such as Low pass, High pass, Bandpass, and comb filters, but it also contains some super crazy LFO shapes that when routed properly, can really add an extra element to your song.
There is also a bunch of sidechain presets that instantly allow you to apply sidechain to your synths.
What makes it stand out?
There are a bunch of LFO tools out there on the interwebs so what makes Xfer LFO Tool stand out above the rest? Well, to be honest, I don't think there is anything super special about this VST.
It can do the same things that most of the other LFO tools can also do, but I want to talk about a few of my favorite features.
LFO Visual representation. As you can see LFO Tool has a very visual interface allowing the user to see the exact LFO shape, but there is also an option that allows the user to see how the original sound is being manipulated.
By clicking the 'Scope' button the original waveform is layered underneath the LFO shape allowing the user to see the difference from the original signal to the processed signal. Great for anybody trying to understand how this tool works.
Filter Visual representation.  The filters in LFO Tool are also displayed visually allowing the user to see exactly what filter shape is affecting the sound. To see a visual representation of the filter simply hover your mouse over the filter area and the filter will be revealed.  
The Interface
There is nothing fancy about LFO Tools interface but is there any reason to be? It's simple, it's clean and easy to navigate so what more can one ask for? For those who know me, I think these traits are far more important than having a nice-looking interface that functions like a piece of crap.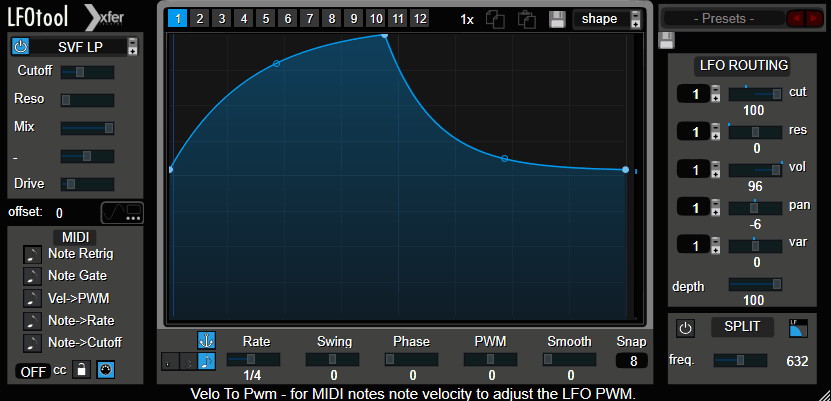 As we mentioned earlier, the LFO and Filter shapes can be seen in the center of the screen while everything else around the outside remains the same. This makes navigating around the interface super easy and intuitive.
On the top left, you can see the filter settings. This is where you can change the filter shapes, cutoff amount, resonance, etc and on the right, you can the LFO ROUTING, and this is where you tell LFO tool exactly what you want the LFO to affect.
Down the bottom, you can see your 'Rate' and the sync settings.  Here you can choose whether you want to anchor the LFO to the beat or let it trigger freely and whether you want to activate triplets and other rates types.
System Requirements
Xfer LFO Tool was programmed entirely with C++, thus allows it to use minimal CPU.
Mac OS X 10.5 or later.
Windows 7 SP1 or later.
Other Resources
Xfer LFO Tool is a very popular VST plugin amongst electronic music producers meaning there is a bunch of tutorials and user guide out there.
On top of that, when you purchase Xfer LFO Tool and register your product, you are granted access to the LFO Tool forum on the official Xfer Records website. This forum is a great place to find extra third-party presets that other amazing humans have created and are giving away for free, so check it out.
Summary
Xfer LFO Tool is a great plugin that is pretty easy and fun to use, and I use it regularly in most of my productions.
If you are at a level where you are just starting to dive into Filters and LFO modulation, then I don't think this tool will be a worthwhile investment as you can wield the same results using default effects from your DAW.
Once you get to an intermediate level this plugin will start to shine as you get to harness its full potential. Any Pluginboutique.com links are affiliate links, so if you decide to purchase, I will receive a small percentage of the sale at no extra cost to you.
Interested in some other VST plugin review? You can check them out below.
As always, good luck and happy producing.