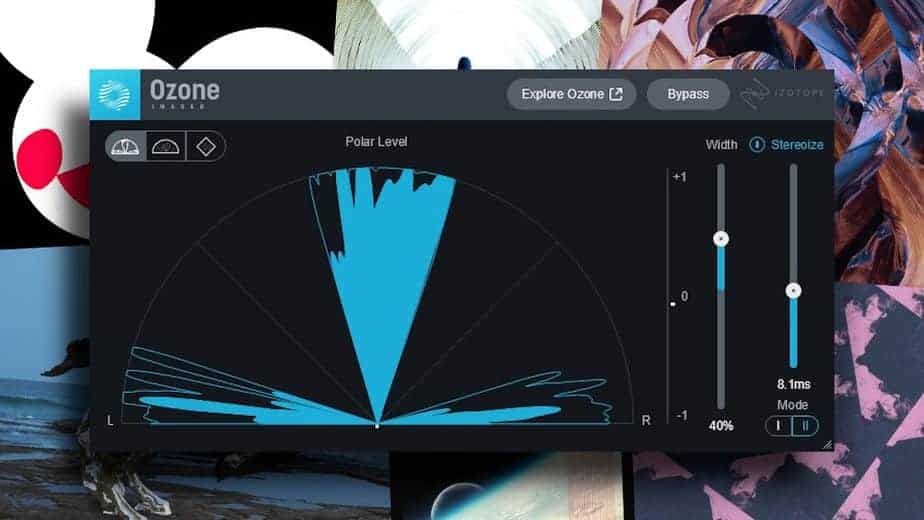 Ozone Imager 2 Review
Ozone Imager 2 is a VST plugin born from Ozone 8's legendary imaging technology and the best part about it… it's absolutely FREE! YEW! This little stereo imager doesn't look like much, but it can make the world of difference when used properly in your mix.
Ozone Imager 2 makes your stereo width WIDE!
Not sure what stereo width is? You can read a short explanation HERE.
Ozone Imager 2 is the updated version of iZotope's awesome Ozone Imager. There have been a few sexy design upgrades and a new 'Stereoize' option that allows you to turn any mono track into a stereo track.
Pretty cool stuff!
Pros
Free
Simple to use
Visual representation
Add huge width
Mono to Stereo
How does it sound?
Ozone Imager 2 is designed to perform the simple task of stereo widening, but to perform it well. Rather than you just sitting there reading my crappy writing, how about you listen to a few examples I have put together that show you the power of Ozone Imager 2.
Listen carefully at how wide the sound feels.
Width Off
Width On
Stereoize Off
Stereoize On
The team at iZotope has put together a sweet video showing you how you can use it to process vocals.
Ozone Imager Functions
Below is a list of its functions.
Control the Width. Adding Stereo width could not be easier with Ozone Imager 2. Simply raise the 'Width' fader until the desired width is achieved.
Stereoize. Stereoize is a function that was added to Ozone Imager 2 and it allows users to turn any mono signal into a stereo signal with the use of a simple fader.
Visual Representations. If you are a deaf music producer, never fear, Ozone Images has 3 visual stereo image graphs to help you out. The 'Polar Sample', 'Polar Level' and 'Lissajour' interfaces. Read more about each below.
The Interface
The Ozone Imager 2 interface is very clean and simple and that seems to be exactly the same as iZotope's Ozone 8's stereo imager.
The plugin window can even be re-sized to get an even better view of the effect in action.
There are three main graphs that can be selected by clicking one of the three buttons in the top left.
On the right, you can see the 'Width' and 'Stereoize' faders although the stereoizer fader won't be active until you press the stereoizer button above the fader. These faders remain the same no matter the graph you have selected.
Each of these graphs give a slightly different visual representation allowing you to choose the one that suits you the most.
Polar Level Interface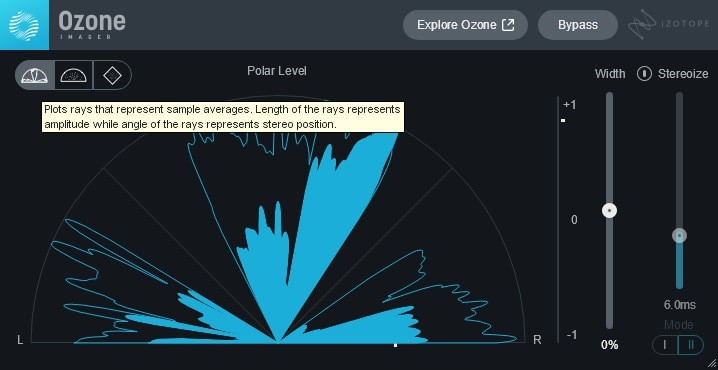 Polar Sample Interface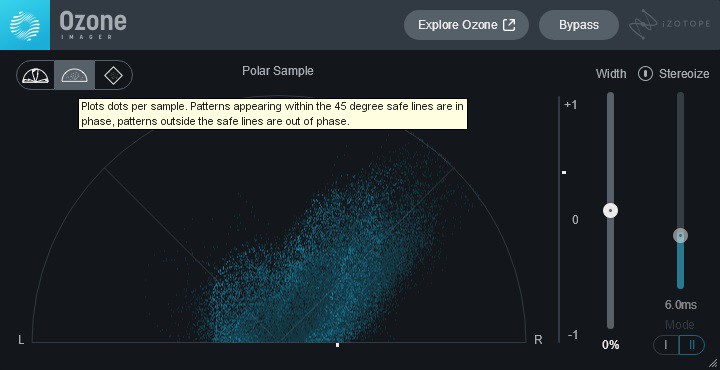 Lissajour Interface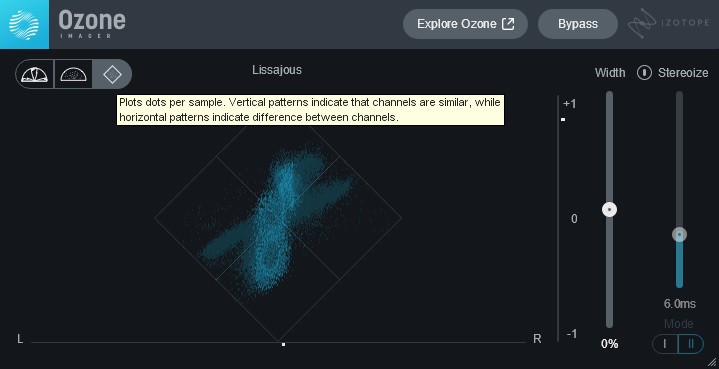 Skill Level
Beginner
If you are a beginner, you will absolutely love this VST plugin because it allows you to achieve results that usually require some advanced techniques. Stereo width can be achieved in many ways, but this plugin makes it super easy for a beginner to implement stereo width, and to see exactly how the stereo width is affecting the sound with the visual graphs.
Advanced
Even if you are an advanced user, Ozone Imager 2 is still a great tool to add to your arsenal as it can be used as an extra tool in the mixing process. Having that visual representation can take some of the load off your ears and can even aid with ear training.
System Requirements
Operating Systems:
Mac: OS X 10.11.6 (El Capitan)–macOS 10.15 (Catalina)
PC: Win 7–Win 10
Compatible DAWs:
Ableton Live 9–10
Cubase 9.5
Digital Performer 9
FL Studio 12
Logic Pro X
Nuendo 8
Pro Tools 10–12
Reaper 5
Reason 10
Studio One 3–4
Summary
All in all, Ozone Imager 2 is a great free plugin that I believe every producer must own. Whether you produce electronic music or are a mixing engineer, this tool will serve you some purpose and make the download worthwhile.
Just download it and have a play around. What have you got to lose?
Want to check out some of my other VST related articles?
As always, good luck and happy producing.