Little AlterBoy Review – IT'S SO MUCH MORE!
Pitch/Formant Shifting VST
$99
So, you are in the market for a new pitch-shifting plugin and you stumbled across Soundtoys Little AlterBoy. This little puppy is a very simple plugin that allows the user to dramatically manipulate many different types of samples.
Little AlterBoy is a simple and intuitive Pitch/Formant shifting plugin that provides users a wide range of voice manipulation tools. It can be used to simply add some extra dynamics to a dull vocal sample or to completely manipulate the sample into the much-abused hip-hop autotune effect.
Pros
Can be used as autotune
Easy to use
Change singers gender
Can be used on any instrument
Cons
Designed for monophonic tracks
Only has 11 presets
Expensive!
How does it sound?
Little AlterBoy has the power to achieve many different results ranging from the vocoder effect, auto-tune, vocal doubling, robot, saturation, or to simply change the sex of a vocal sample.
Soundtoys has a lot of prior experience in creating pitch-shifting plugins and this experience definitely shines through their quality products.
Every part of Little AlterBoy sounds amazing and is a pleasure to use.
That's enough of me talking about it, let's listen to a few samples I have put together.
Original Sample
Pitch and Formant lowered by 12 semitones
Mixed Sample
Is Little AlterBoy for you?
If you are like me and love messing around with pitch automation, vocoders, and autotune effects, then Little AlterBoy is a great plugin to add to your collection.
Although $99 can seem a little expensive, if you consider the ability to achieve similar results to auto-tune, that just adds to Little AlterBoys value.
Skill Level
Little AlterBoy is perfect for Beginners to Advanced users and everyone in between.
Beginner. Because Little AlterBoy is such a simple tool to use with a very simple interface, it makes it perfect for the beginner. Randomly twisting knobs with no direction can easily wield some interesting results.
Advanced.  Advanced users will be able to get more out of this tool by using it in a more subtle approach.  It can be used to add more harmonics to vocals, double vocals, saturate samples, or even add backing vocals without having to record another take.
Presets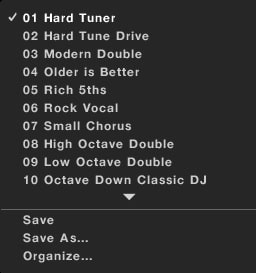 Soundtoys didn't provide us much in the way of preset options, but the 12 provided are a good place to learn how certain characteristics are made allowing the user to reverse engineer and make their own.
The user can easily make changes to Little AlterBoy and save their presets into a 'User' folder for quick access when required.
What makes it stand out?
I think the feature that makes Little AlterBoy stand out amongst the rest is its ability to allow users to control the pitch of the sample using a MIDI device. In other words, the user can play a note on a MIDI device and the sample will play that note with Little AlterBoys effects added.
I find this a really fun feature to play with because I can not sing for S#%T! Whereas when I use this feature, I sound like I have the voice of a hip-hop angel.
You can watch it in action below.
The Interface
You have heard the saying, 'simple is always better', or 'less is more', right? Well, it seems that Soundtoys kept that idea pinned to their vision board while engineering Little AlterBoy.
Its clean and simplistic user interface is super easy and intuitive to use, and this makes it a fun piece to play with.
The interface is broken down into 3 different sections that are all self-explanatory, but for those of you with next to no experience with audio manipulation, I shall explain.

Pitch/Formant Control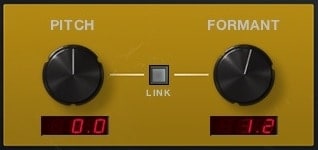 PITCH control is simply used to alter the pitch of any given sample. Moving the control will increase or decrease the sample in semitone increments. Pretty easy stuff there.
TIP: Holding 'Shift' while making adjustments will remove the 'snap to note' feature and allow you to freely adjust the pitch.
FORMANT control, on the other hand, is what allows the user to change the sex of the vocal sample. By raising the formant value, a male's voice can be turned into a female voice, and by lowering the formant value, a female's voice can be made to sound more male-like.
Pretty cool stuff!
Transpose/Quantize/Robot Mode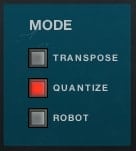 TRANSPOSE mode is the default operational mode, where the Pitch control will simply shift the pitch of the incoming sample.
TIP: Select this mode if you wish to change the sex of a vocal sample.
QUANTIZE tunes your sample to the nearest semitone as quickly as possible, and I must say, it is really fast! Using Quantize is very similar to the automatic tuning effect produced by other vocal tuning plugins such as 'Waves Real-Time Tune' and 'AutoTune'.
TIP: QUANTIZE mode and the right amount of DRIVE will instantly transform your vocals into the much-abused hip-hop vocal effect.
ROBOT mode will lock your sample to a single note. The user can control the pitch by using the PITCH knob. The default ROBOT mode will set your sample to one octave above middle C.
Tube-Driver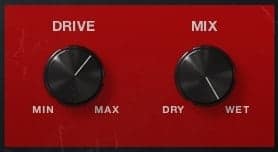 DRIVE mode allows you to add tube saturation to your audio samples. Use it in small amounts to add some subtle warmth, or in larger amounts and smash your samples to pieces.
MIX mode is the same as a Dry/Wet knob you see on any other effect.  It determined the mix of the DRY/unprocessed signal to the WET/processed signal.  It is extremely useful for adding harmony effects, allowing the user to mix in the perfect amount of processed signal, and leaving the main vocal perfectly in-tact.
System Requirements
Operating systems: Mac OS X 10.10 or later; Windows 7 or later.
An internet connection is required at the time of activation.
Supported Hosts:
Pro Tools (11 or later)
Ableton Live
Cubase
Nuendo
Sonar
Logic
Digital Performer
Summary
If you are in the market for a new Pitch shifting plugin then Little AlterBoy should be added to your shortlist because it is so much more than that. It's jam-packed full of cool features that give you so much more flexibility and control than typical pitch-shifting plugins won't give you. Any Pluginboutique.com links are affiliate links, so if you decide to purchase, I will receive a small percentage of the sale at no extra cost to you.
I hope this article has helped educate you on Soundtoys Little AlterBoy.
Want to check out some of my other VST related articles?
As always, good luck and happy producing.