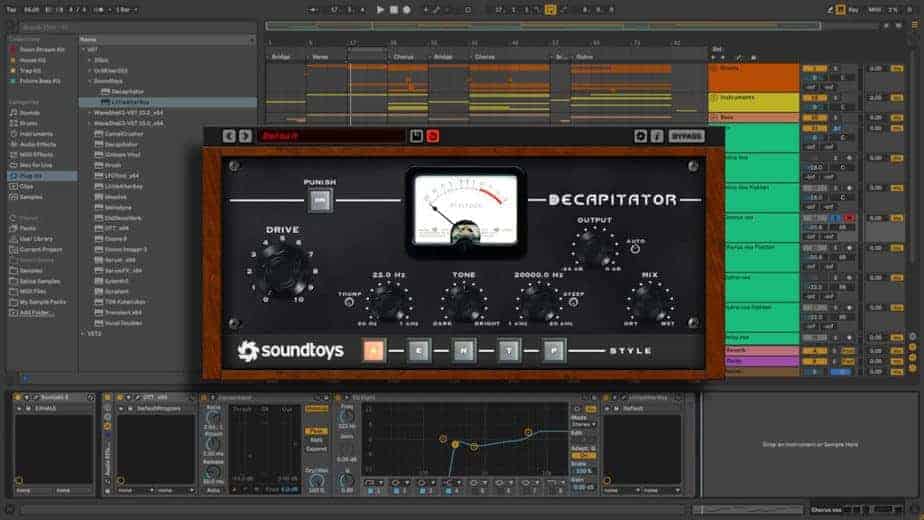 Soundtoys Decapitator Review – AMAZING SATURATION
Saturation/Distortion
$199
Every music producer, sound engineer or hobbyist should have at least one awesome saturation plugin in their collection, and if you ask me, that plugin should be Soundtoys Decapitator.
Soundtoys Decapitator is an amazing saturation/distortion VST that has been perfectly modeled around famous analog hardware. It can simply add subtle warmth and presence to a mix or be used to totally crunch and distort your sounds. Decapitators changing responsive emulations of all those tubes, wires and transistors is what gives this VST its amazing character.
Pros
5 Day Free Trial
Sounds amazing
Punish button
Simple user interface
Automatic gain adjustment
Is Soundtoys Decapitator for you?
Saturation is one of the most powerful tools available that can be used to add a variety of elements to your music such as warmth, presence, distortion, character and many more, and because it is such a powerful tool, I believe it's necessary for everyone to own at least one high-quality distortion/saturation plugin.
Soundtoys decapitator is just that, High Quality, and although it comes with a hefty price tag, I still think that its worth every cent! Whether you are a beginner or an advanced user, this is a plugin that you will use every day.
Artists who use Soundtoys Decapitator
So many professional artists are using Decapitator because of its unique hardware modeling and beautifully harmonic sound so I won't be compiling a complete list for you today.
Instead, you can read exactly what a few of them think.
"Decapitator is 'instavibe-in-a-box'." – Fabrice "Fab" Dupont – Jennifer Lopez, Marc Ronson, Santigold
"I like it on everything." – Tchad Blake – Brazilian Girls, Sheryl Crow, Cibo Matto
"Watch out! This thing will tear your head off!" – Ryan Hewitt – Red Hot Chili Peppers, We Are Scientists, The Alkaline Trio
Skill Level
Beginner. Generally, beginners tend to look for plugins that dramatically manipulate their sound. This is because they do not yet understand the importance of subtleties. Decapitator can be used as a distortion plugin and satisfying the beginner craving of smashing their sounds to pieces, but it is also great because there is room to grow.
Advance.  As I mentioned before, beginners love hearing massive changes in sounds, whereas advanced users tend to add subtle changes over a lot of different elements giving the whole song more character.  This skill comes with practice and Decapitator is one of the best plugins that allows more advanced users to accomplish this.
How does it sound?
Soundtoys Decapitator is one of the best saturation distortion plugins on the market. There are other options available that also sound amazing, but Decapitator takes the cake when it comes to unique hardware modeling.
Let's look at what hardware Decapitator was modeled from.
A – Ampex 350 tape drive preamp. This machine was popular in the 1950s and was used in studios all over the world. The best way to describe the sound of this beast is ultra-ultra-smooth. People loved the sound of this machine so much, often they were stripped down and rewired as stand-alone mic preamps.
E – Chandler/EMI TG channel preamp. The sound of the TG channel is a beefy low end coupled with a smooth but airy top-end sheen. We just love the sound of this piece of gear, which is an excellent mic preamp, DI and EQ, with loads and loads of character
N – Neve 1057 channel preamp. The Neve is a beautiful piece of hardware but especially has a unique, distinctive, and phenomenal sound on guitars. Some describe the Neves character as a weighty but solid low end with focused but not narrow mids.
T – Thermionic Culture, Culture Vulture, triode setting. The Culture Vulture is not just a distortion device but is also an amazingly useful tool for adding warmth and various levels of dirt to drums, vocals, keyboards or just about anything.
P – Thermionic Culture, Culture Vulture, pentode setting. Also modeled off the Culture Vulture, the only difference is the mode. The pentode mode is commonly used in the output stage of guitar and other amplifiers and is usually characterized by odd harmonic distortion.
Presets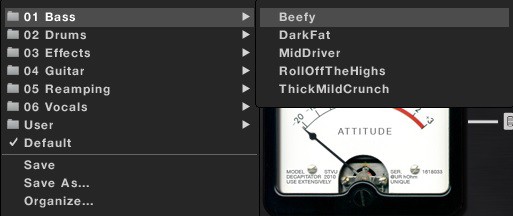 Soundtoys Decapitator contains a total of 45 Presets that have been designed for use on individual tracks and sounds such as drums, bass, guitars, reamping and vocals.
But don't let that stop you from experimenting!
What makes it stand out?
The team at Soundtoys has worked hard to capture the feel of analog gear. Decapitator is not a static snapshot, but a changing responsive model of all the inner workings, meaning you can hear subtle changes as the Decapitator reacts to a track and follows the dynamics of an instrument.
That's what analog is all about and that's what makes Decapitator stand out amongst the rest. The unique character that can be achieved with this beast surpasses that of any other saturation plugin on the market.
The Interface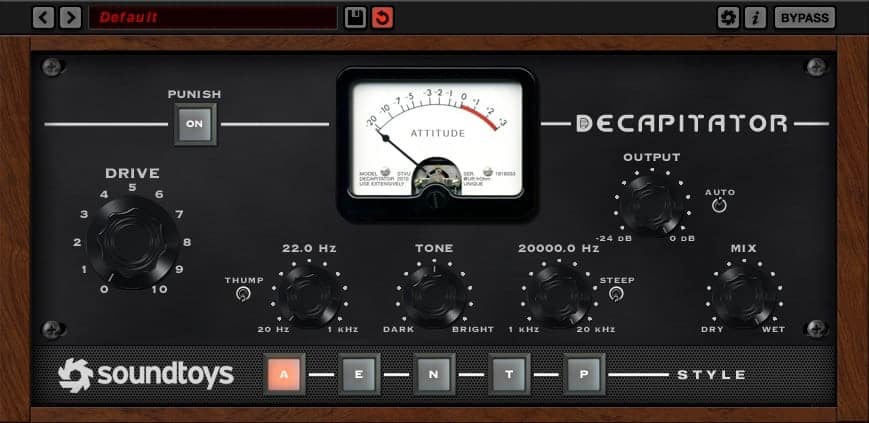 Decapitators sound has been modeled from hardware, so why not also model the interface from hardware too? That's exactly what Soundtoys have done and I love it!
The interface is simple to understand and follow, and a simple click on any one of its controls shows the exact control setting in it's corresponding measurement.
Let's take a look at some of the different interface elements.
Style

This is where the user selects what hardware model they want decapitator to follow. Each model will have slightly different harmonic characteristics.
Drive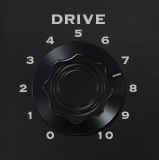 The Drive control is used to add the saturation effects from the plug-in. The harder the drive control is pushed, the more it will saturate/distort.
Punish

Want to distort the absolute crap out of your sounds? The punish button adds an extra 20db of gain to the signal being sent through Decapitator. I'm sure you can imagine what to expect.
EQ

The EQ section consists of a Low cut and a high cut that is used to shape the wet saturated signal. With the additional 'Tone' control allows the user to adjust the saturated sound from a darker to a brighter sound.
Output

When extra harmonics are added using the drive control, the overall sound feels a lot louder. The output control is used to fine-tune the output volume. A cool feature in Decapitator is the 'Auto' switch. Activating this switch allows Decapitator to automatically adjust the output as the drive control is changed.
Mix
I'm sure you already know what the mix control does but ill explain any way to get my word count up a little bit. The mix control determines the balance of the original dry signal to the saturated wet signal allowing the user to perfectly mix the dry and wet signal together.
System Requirements
Mac OS X 10.10 or later
Windows 7 or later
An internet connection is required at the time of activation.
Summary
As I mentioned earlier, everyone from beginners to advanced users should definitely have at least one awesome distortion plugin in their arsenal. It will be a tool you use every day from the moment you purchase until the moment you reach your goals. Any Pluginboutique.com links are affiliate links, so if you decide to purchase, I will receive a small percentage of the sale at no extra cost to you.
Soundtoys Decapitator is definitely one to consider purchasing.
Want to check out some of my other VST related articles?
I hope this Soundtoys Decapitator review has helped make your decision a little easier.
As always, good luck and happy producing.