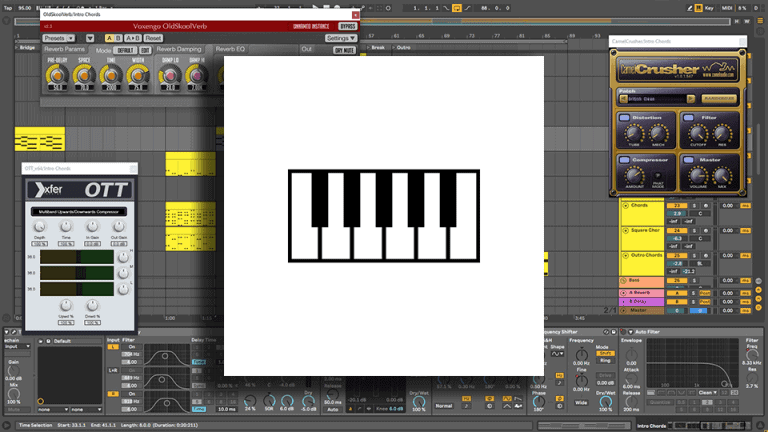 Ultimate List Of Free Piano VST Plugins
Every music producer or musician needs to own at least one great free piano VST plugin, but it's hard to find the diamonds when there is so much crap amongst them.
To make your decision easier I have compiled this list of the top 10 free piano VST plugins available on the interwebs, plus a few honourable mentions at the end.
Top 10 Free Piano VST Plugins
Keyzone Classic
Versilian Upright Piano
4Front Piano
Skerratt London Piano
Iowa Grand Piano
Spitfire Audio Soft Piano
DSK The Grand
DSK Acoustik Keys
Salamander Piano
RDG Free Piano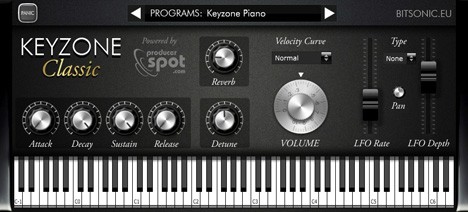 How does it sound?
The Keyzone Classic is one of my favourite free piano VST on this list, not only because it sounds amazing, but also because it comes with a total of 4 different in-built pianos.
Yamaha Grand Piano.
Steinway Grand Piano.
Keyzone Piano
Basic Electric Piano.
Rhodes Piano.
Each of the different pianos sound really nice with high-quality samples, but my favourite would have to be the Yamaha Grand Piano with its softer and warmer tones.
The Steinway Grand piano also sounds beautiful but has a much brighter and sharper sound.
Interface
Keyzone Classic's simple and elegant user interface has a decent amount of control available:
ADSR
Reverb
Detune
Velocity Curves
Master volume
LFO
The piano roll is a nice touch that allows the user to visually see exactly what notes are being pressed in real-time.
Pros
Clean interface
4 different piano types
High-quality samples
Windows & Mac
Cons
LFO is pretty much useless
Big download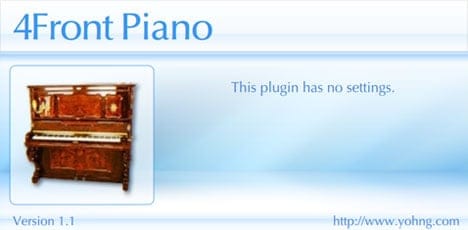 How does it sound?
Most piano VSTs are either sample-based or synthesized, but not 4Front Piano. It is a hybrid technology that combines both methods making it super light on the CPU.
This VST sounds quite impressive with a sharper, tighter and brighter sound than most of the others listed in this article.
Interface
What interface? What you see in the picture above is what you get. I think it is a little disappointing as the piano sounds pretty decent but just lacks in control, but some people really like the simplicity of this free piano VST.
Pros
Sounds nice
Low on CPU
Never crashes
Cons
Lacks any control
Looks pretty bad

How does it sound?
I really like this free piano VST. It has a nice balance of warmth/airiness, to bright and clear, making is a well-balanced piano VST.
It is a relatively clean sampling of an upright piano and features 3 velocity layers with 2 Round Robbins making it hard for the listener to hear the same sample repeated.
My guess is it's probably targeted towards the classical market as it has an old orchestral feeling to it.
It also has an odd feature that automatically generates randomness in the timing of your keystrokes making it impossible to his all notes at exactly the same time and unfortunately, this feature cannot be turned off.
Interface
I really like the look of this interface. There are very simple controls that allow some shaping control such as:
Reverb
Panning
Volume
ADSR
Piano Roll
Pros
Has some control
Sounds quite balanced
3 different velocities and 2 round robins
Clean interface
Cons
Slight pre-amp hiss
Automatic keystroke randomness

How does it sound?
Another sample-based upright piano with a solid low end, strong mids and soft highs making it another great option for those classical piano players out there.
It also sounds amazing being played as a saloon piano.
If you are an electronic music producer this probably won't suit your needs as the highs are a little too dull and lack clarity and presence.
Interface
The Skerratt London has the same controls as most the other free piano VST on this list.
Volume
Panning
ADSR
Piano Roll
Pros
Soft sound for classical piano players
Clean recording
Simple interface
Cons
Lacking in clarity and presence

How does it sound?
The Iowa Grand piano is a Steinway grand piano with every note sampled with 3 velocity layers.
The sound it produces kind of feels like the highs and lows have been rolled off with an EQ. Maybe the producers wanted this effect or maybe they are trying to remove unwanted frequencies to remove artefacts from the sound.
All in all, it's still a great sounding piano, but if you are looking for something with a much wider spectrum than this is probably not your best option.
Interface
The Iowa Grand Piano has a typical user interface containing controls such as:
Volume
Panning
ADSR
Piano Roll
Pros
Enough controls to shape your sound
Cons
Sound is lacking depth and clarity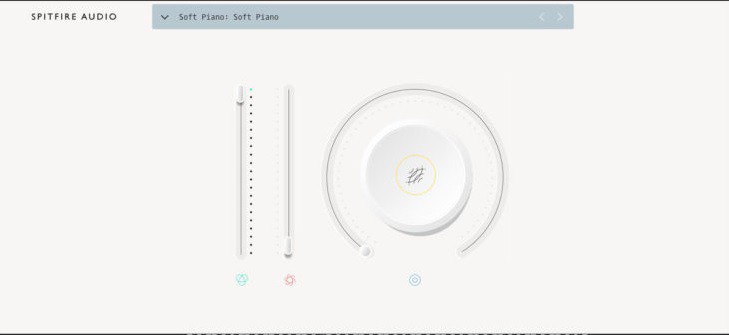 How does it sound?
The name basically describes it all, a soft, gentle piano that almost sounds like a felt tip piano. So soft that almost all the high frequencies are non-existent making it feel super lo-fi and muffled.
If you are into producing lo-fi hip hop, then the free piano VST plugin should be something to consider.
Interface
The person who designed this interface deserved to be pimp slapped because it just makes things difficult. Why they didn't just label the function of the controls baffles me, but beggars can't be choosers, right?
There are 3 main controls here.
The left fader is the master volume
The right fader is Modulation
And the right knob is reverb dry/wet.
Simple controls and a piano roll are the only tools you have.
Pros
The reverb sounds awesome!
Cons
Requires Spitfire Audio Library Manager
Keys aren't velocity-sensitive
Weird interface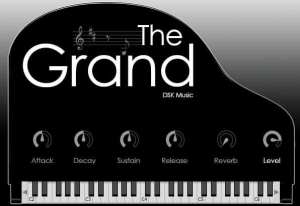 How does it sound?
Next, we have the DSK Grand piano and this does sound quite nice considering it is synthesized.
There is quite a lot packed into this free piano VST, including 4 velocity layers and 5/6 samples per note meaning you will never ever notice the same sample being played twice. Pretty cool!
I would recommend not using this piano as a lead instrument as the sound does have a very synthesized feel compared to some of the other sample-based pianos on this list, but if that floats your boat then this is for you.
Interface
The interface is very simple and clean with the typical controls we come across on most of the free piano VST.
Volume
Reverb
ADSR
Piano Roll
The Reverb sounds very precise and clean and works perfectly with it's synthesized sound.
Pros
4 Velocity layers
4/6 samples per note
Clean recordings
Cons
Not much warmth
Lacking some lower frequencies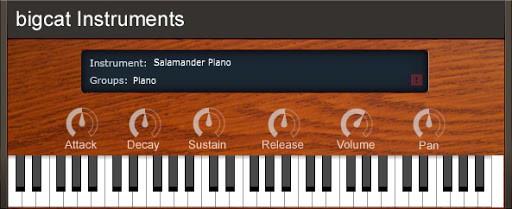 How does it sound?
The Salamander Piano is an amazing free piano VST. It comes jam-packed with 1.3GB of high-quality 24bit samples consisting of 16 stereo velocity layers.
It produces a very warm sound with a lot of low-end but still manages to preserve some presence and clarity in the mix.
I think this is a great piano as the quality of the samples are amazing and sound great.
Interface
The clean and simple user interface contains the following:
Pros
Sounds Really nice!
16 velocity layers
High-quality 24bit Samples
Cons
Massive download
No reverb controls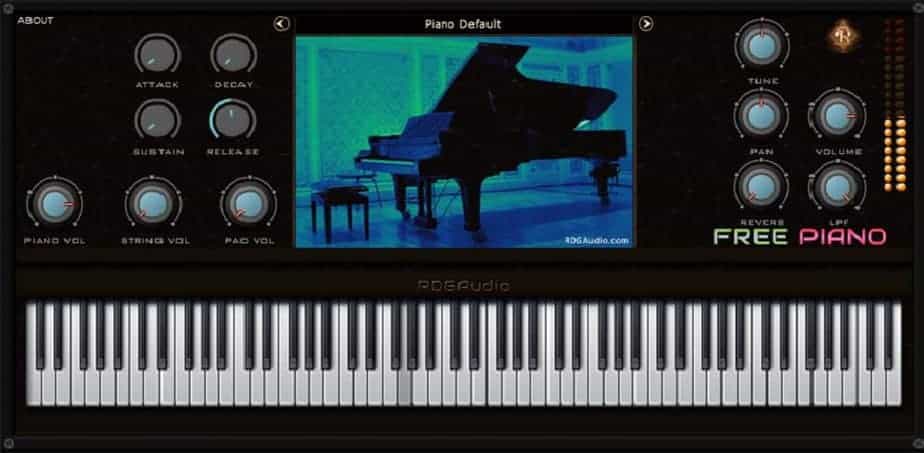 How does it sound?
They really went the extra mile when making this free piano VST for us because it does not just contain a piano instrument, but also contains strings and a pad synth.
The RDG piano has sharp and clear mids and highs that cut through the mix with ease and if things are too sharp for your liking then you can use the built-in low pass filter to cut them away.
This piano really comes to life when layered with its other built-in instruments. Simply raise the volume of the other instruments to introduce them and see what interesting results you can come up with.
Interface
The RDG Free Piano has a whole bunch of controls and allows you to delve in quite deep into sound design. It contains the following:
ADSR
Piano Volume
String Volume
Pad Volume
Master Volume
Panning
Tuning
Reverb
Low Pass Filter
Pros
Comes with built-in pad
And built-in strings
Heaps of controls
Small download
Cons
Interface looks outdated
Can sound synthesized at times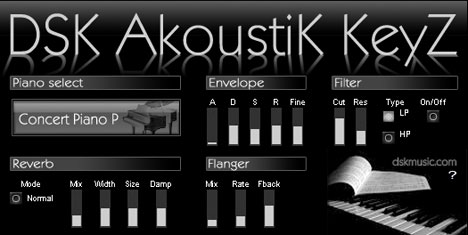 How does it sound?
The DKS Akoustik Keys actually has 3 different pianos to choose from and each one of them sounds pretty damn good with a reasonably well-balanced sound. Some say its slightly lacking in the low end but that just comes down to personal opinion.
The best part about this synth is its controls and effects and there are quite a few features on this piano that none of the others on this list possess.
Interface
These controls and effects consist of the following:
3 different pianos
Reverb
Flanger
Envelope with fine-tuning
High pass filter
Low pass filter
ADSR
Having the high pass and low pass filters give the user a lot more flexibility when trying to fit the piano into their mix.
Pros
Tiny download
Light on the CPU
Reverb and Flanger
High pass and Low pass filters
Velocity-sensitive
Fine-tuning control
Cons
Can sound a little synthesized
Outdated interface
---
Free Kontakt Pianos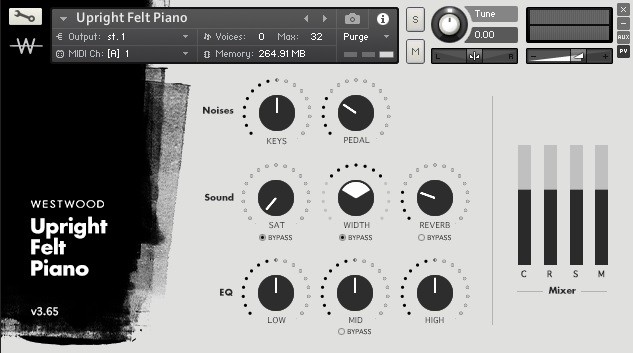 How does it sound?
This upright felt piano was recorded with 3 microphones to help capture the sound and room harmonics perfectly. And it really shows. The warms and organics of this library are amazing. The felt on the hammers takes away the harsh high end of a regular piano and replaces it with a gentle note.
Interface
The interface is very easy to use with only a few knobs and faders.
3 EQ bands
Noise oscillator
Pedal control
Mixer controls
Pros
Warm and organic sound
Simple interface
High-quality Samples
Cons
Requires the full version of Kontakt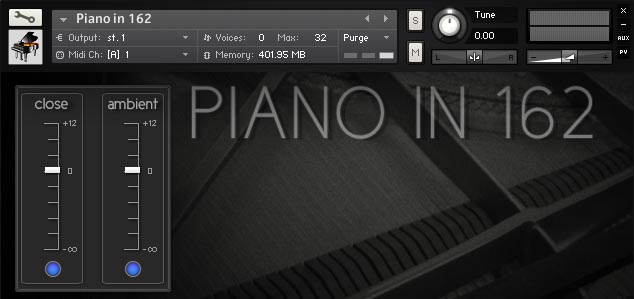 How does it sound?
What a beauty this free piano Kontakt library is!! It sounds absolutely stunning and would be perfect for any lead piano. If you own Kontakt I highly recommend downloading this library.
It has a very bright and clear sound but still has great body and low end that does not sound muddy.
Piano in 162 features five velocity levels, 2 round robins, and separate pedal on and off samples for a true to life sound.
Interface
The user interface is very limited but with its amazing sound quality who cares!
Pros
High-quality
Sounds amazing
Recorded with close and distant mics
Cons
Requires the full version of Kontakt
Big download file
Summary
Well, that about sums up this crazy list of free piano VST and I hope you found some useful information in there.
I am constantly updating this post so if you know of any other awesome free piano VST then please let me know so I can add it to the list.
Interested in other awesome free stuff lists?
As always, good luck and happy producing.