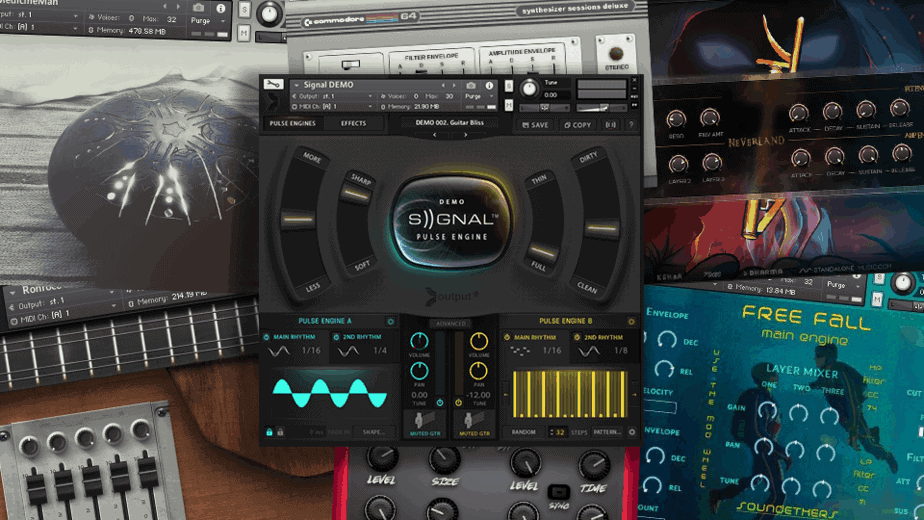 Best Free Kontakt Libraries You Must Have
Who doesn't want some free Kontakt libraries? I sure do! Over the past 2 weeks, I have spent countless hours researching and testing every one of the following free Kontakt libraries. These are the best free Kontakt libraries I could find on the interwebs.
If you feel like some extra light reading, Ive also compiled a list of FREE Piano VST plugins, and FREE Rhodes VST plugins.
What this list of free Kontakt libraries consists of:
1. Palette by Primary Colour
Orchestral Samples
1.3GB
Requires full version of Kontakt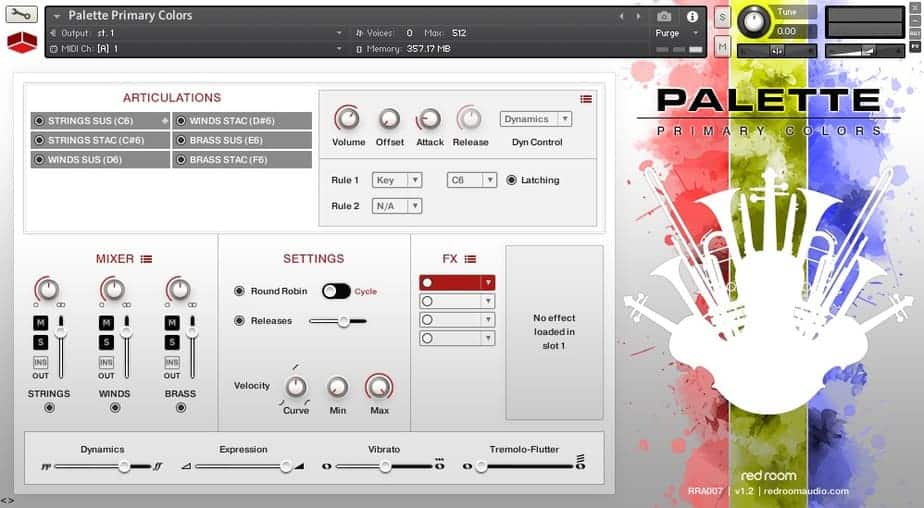 To be totally honest, I'm really surprised that Palette is free… It is loaded with orchestral sounds that sound absolutely amazing! Its a little tricky to wrap your head around at first, but once you learn how to start stacking different orchestral sounds you can come up with some awesome Flume like violin assembles. Hmmm… maybe this is what he used? Who knows. You can easily select what instruments you want to stack by pressing the allocated buttons on your MIDI keyboard, then just play as normal and you will hear the stacked instruments playing together.
You can then mix your stacks together by changing the volume levels of each instrument in the mixing section. There is also an effect section where you can stack up to 4 effects such as reverb, saturation, distortion, chorus, flanger, phaser, eq, and many more. I only spent a good half an hour messing around with this thing but it was really fun and it was sparking creative ideas already!
Pros
Sounds Great
Massive sample library
Clean Interface
Loads of effects
MIDI-assignable
Can automate most knobs and faders
Cons
Pain to stack layers without a MIDI Device
Cant automate every knob or fader
Only works in full version of Kontakt
2. Signal Free by Output
Synthesizer Samples
1.42GB
Works in Kontakt Player for 15 minutes
Wow, this thing has a lot inside of it and it's only the demo version. I would love to see what the full version looks like. It's no surprise that Output makes killer products, and Signal Free falls under that category… Killer. Signal stacks two sounds at once and mixes them together with perfection.
There are some interesting presets you can easily scroll through but most of them are arpeggios or rhythmic in some way or another. You have the control to completely remove all effects and just use the sample in its original form. Each side of the interface has a sample, and each side has its own set of knobs and faders you would expect to see on a sampler, such as ADSR, Envelopes, LFOs, panning, etc, and there are more effects such as compression, EQ, limiter, etc. You can choose to effect a single sound or affect the sound globally.
If presets are your thing then you will probably find Signal a disappointment, as it only has 25 available in the free version, and unfortunately, you can't save your own presets.
Pros
Sounds awesome
Clean interface
Heaps of controls and effects
MIDI Assignable
Can automate most knobs and faders
Cons
Limited Presets
Can't Save your own Presets
Not all functions available
Only works in Kontakt Player for 15 minutes
3. Orchestra Chords and Sustained Strings by Sonuscore
Orchestral Samples
370MB
Requires full version of Kontakt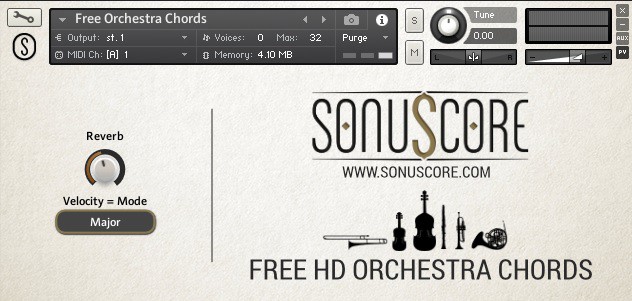 This Kontact library consists of two separate instruments and is another great free option if you are into orchestral sounds and productions. There is not much to these two libraries apart from a reverb knob that actually sounds really nice. The samples themselves sound pretty damn good too and the notes transition from one to the other seamlessly. The whole thing consists of string assembles so if you are looking for something with a little more substance and diversability then this free Kontakt library probably isn't your best option. If strings are your thing then this is a must-have.
Pros
Simple to use
Velocity Sensitive
MIDI Assignable
Can automate the reverb knob
Cons
Need full version of Kontakt.
The interface is pretty dull.
Not much to play with.
4. KSHMR & 7 Skies by Neverland Lead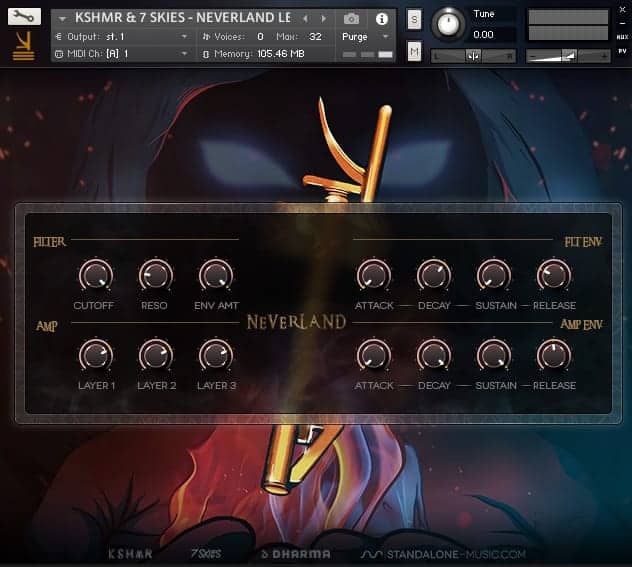 The KSHMR & 7 Skies library consists of one simple synthesizer patch. It consists of 3 layers that can be mixed using the three Amp knobs. There is also a global filter, filter envelope and a global amp envelope. Very simple library with limited functionality.
The user interface is super easy to understand with no confusing knobs and faders. Straight out of the box it makes a deep sound full of harmonics, and that's before processing.
If your looking for another synth lead to add to your collection then this is another option. Although for 99BM of Hard drive space it's probably now worth it.
Pros
Sounds Great
Easy to understand interface
Exact lead sound from the original song
Cons
99MB for one synth patch is a bit steep
5. Landscape by Cinematique Instruments
Cinematic Samples
600MB
Requires full version of Kontakt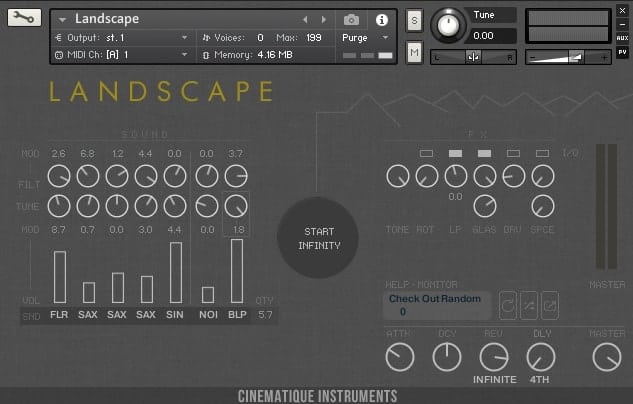 Do you like horror movies? Because this is what landscape sounds like. It makes some really amazing sounds but damn… I was constantly thinking someone was going to sneak up behind me and stab me in the back.
There are general functions like ADSR, LFO, Filters, and effects, but there is also a random button that generates some crazy random complex sounds. It's actually quite interesting to see what type of sounds this thing can make. There is a 'Start Infinity' button in the middle that automatically plays the current sound, this way when you are scrolling random settings it's easy to hear.
If you are the type of producer who likes to go in with an idea in mind and enjoy the more traditional approach to sound design, Landscape probably won't resonate with you. On the other hand, if you enjoy turning faders and dials and experimenting with random buttons to see what interesting sounds and textures you can come up with, then you will absolutely love this thing.
Pros
Cool Interface
Interesting sounds
The random button is really fun
Cons
Needs a full version of Kontakt
Hard to design specific sounds
Everything sounds dark
Requires full version of Kontakt
6. Debussy Freeze by Cinematique Instruments
Bell Samples
30MB
Requires full version of Kontakt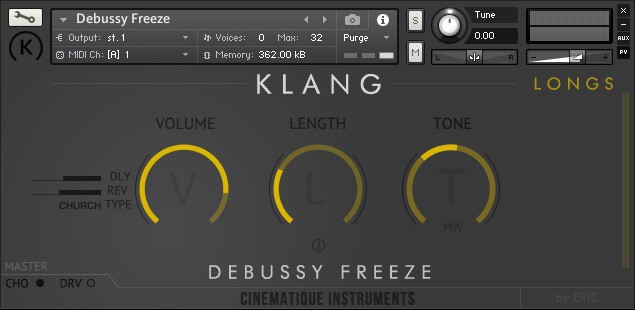 Debussy Freeze… It's just fun to say! Another very simple library only consisting of one instrument. It kind of sounds like some sort of bell.
You can manipulate certain parameters such as Volume, Length of note, Tone, Delay, Reverb, Chorus, and Drive. That's basically ass you can change. There are 9 different types of reverbs to chose from with a web dry fader to mix to taste. The chorus and drive effects are global and only have a toggle on and off button with no wet/dry fader.
Pros
Simple to use
Clean samples
Lots of reverb options
Cons
Only one instrument
Requires full version of Kontakt
7. Neon Tube Buzz by Cinematique Instruments
Keys Instrument
78MB
Requires full version of Kontakt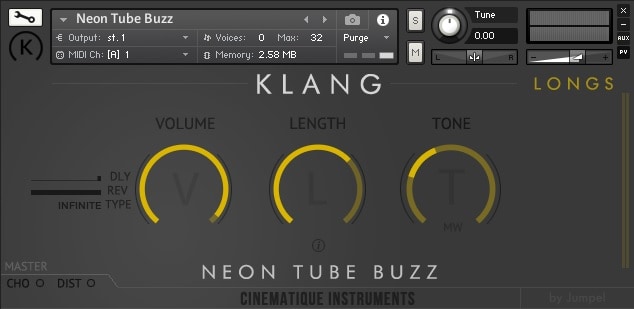 Neon Tube Buzz and Debussy Freeze both come from a collection from Cinematique Instruments called 'Klang'. They find all kinds of old hardware and objects and sample them into free Kontakt libraries. What lovely humans!
All Klang libraries share the same interface making it easy to navigate. Neon tube buzz is a sampled neon light buzz. Pretty self-explanatory huh?
Basically this instrument is some keys. You can add a bunch of reverb and turn it into a more pad sound, or you can shorten the length and turn it more into a stab sound. The cool thing about this is how warm it sounds. Because it was sampled from an old retro neon light, that organic warmth naturally emanates from the samples.
Pros
Simple to use
Can make a variety of key sounds
Warm organic sound
Lots of reverb options
Cons
Only one instrument
Requires full version of Kontakt
8. Thunder X3M Taiko Freebie
Percussion
249MB
Requires full version of Kontakt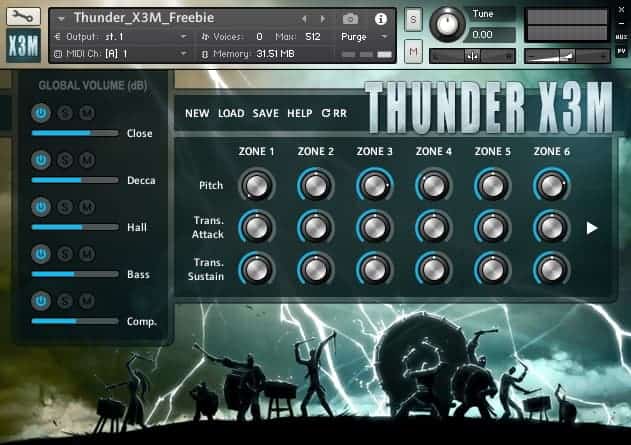 Damn, this thing sounds goooood!! This is at least in my top 3 on this list. Have you ever heard of Taiko drums? Well, this library consists of just that… Super powerful Taiko drums. I also love the animation on the interface too!
Thunder X3m consists of 9 different taiko drum zones with each zone has 4 round robbins. You can easily change the pitch, transient attack, and transient sustain of each individual zone. There is also a global set of effects to manipulate the sound as a whole.
You can choose to use the original default key bindings or you can make your own custom settings to suit your individual play style. There is actually white a bit of control available in this little beast, so if you decide to take the leap and download, you won't be disappointed.
Pros
Simple to use
Loads of effects
Drums sound awesome
4 round robbins
Cons
Requires full version of Kontakt
9. Shreddage 3 Stratus by Impact Soundworks
Guitar Samples
760MB
Requires full version of Kontakt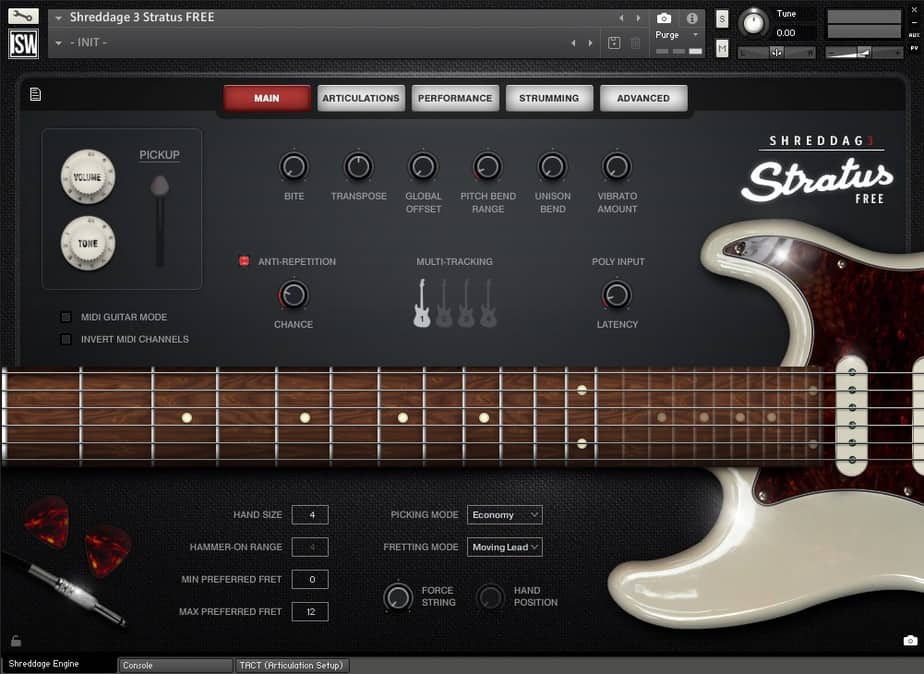 There is way too much stuff to talk about in this free Kontakt library, I am only going to scratch the surface. After half an hour on this thing, there was still so much I didn't get to discover, but I could sense how much more there was.
This library was obviously designed for the guitar lover/player as most of its functions are designed around guitar terminology. It has up to 3 dynamic layers, 4 round robbins and up and down strokes, making it up to 24 samples per keypress. Pretty impressive.
There are other features such as palm mutes, sustains, and chokes. It even has this cook shred mode that makes shredding your new virtual guitar sound even more realistic. Now to be honest I'm not really sure what most of that stuff means as im more of a piano guy myself. But I'm sure most of you guitar guys, this will be a must-have your Kontakt library collection.
Pros
So many controls and effects
Sounds like a real guitar
Up to 24 samples per keypress
Palm mutes and chokes
Awesome looking interface
Cons
Requires full version of Kontakt
Can seem a little overwhelming
Difficult to understand without guitar knowledge
10. Ronroco by Samplephonics
Ronroco Samples
1.2GB
Requires full version of Kontakt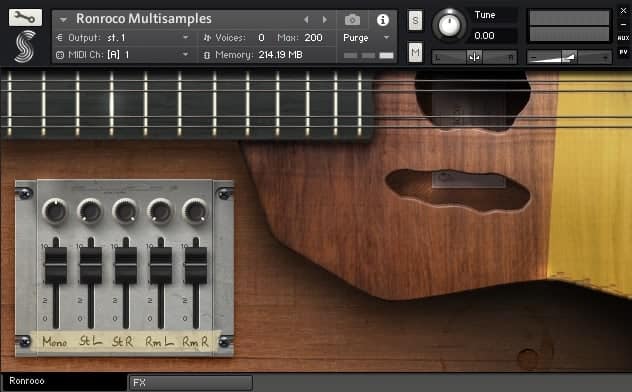 The only words that can be used to describe this little fella are 'Cute af'. It sounds so beautiful I want someone to play this at my wedding… if I ever get over my fear of commitment. Speaking of commitment, I highly recommend you commit to downloading this free bad boy.
It's quite a large download file, but it's jam-packed full of loops and one-shots to keep your ears fulfilled for hours. The recording quality of these samples is absolutely perfect and the transitions between key presses are quite smooth.
The interface looks stunning and it consists of 5 faders and knobs. There is a rack section to this library that has your effect chain modeled after hardware stacks. This contains a beautiful sounding reverb consisting of 13 different verbs, and a delay stack where you can change the rate, width, and a few other settings.
Pros
Amazing loops
One-shots sound awesome
Interface looks clean
Cute AF
Effect rack
Cons
Requires full version of Kontakt
Limited controls
Some not transitions don't sound smooth
11. Orchestral Rise Builder by Hidden Path Audio
Orchestral Samples
78MB
Requires full version of Kontakt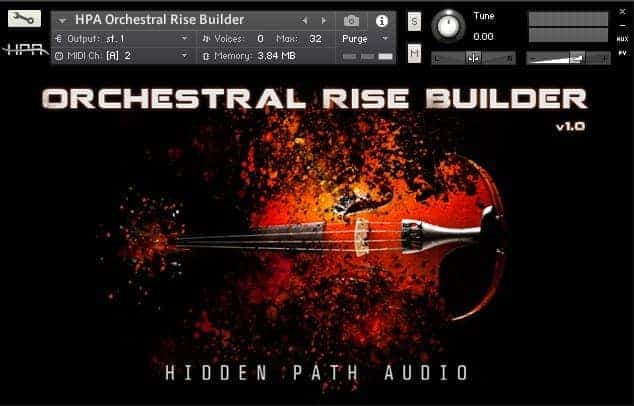 Probably the most simple library on the entire list. There isn't really much to this one. The only option you have it to play the samples provided using your MIDI device. They do sound really nice though!
This library consists of 3 different types of risers. Short, Medium and long risers. Each type is allocated a part of the piano roll making it easy to find what you are after.
Each Type of riser consists of three instruments. Strings, Brass and woodwinds. You can choose to play an individual instrument or you can chose to play them in an essemble. The choice is completely up to you.
Pros
So easy to use
Sound really good
Easily customize your risers
Cons
Requires full version of Kontakt
Limited controls
Not much in the way of effects
12. Free Fall by Sound Ethers
Synthesizer Samples
173MB
Requires full version of Kontakt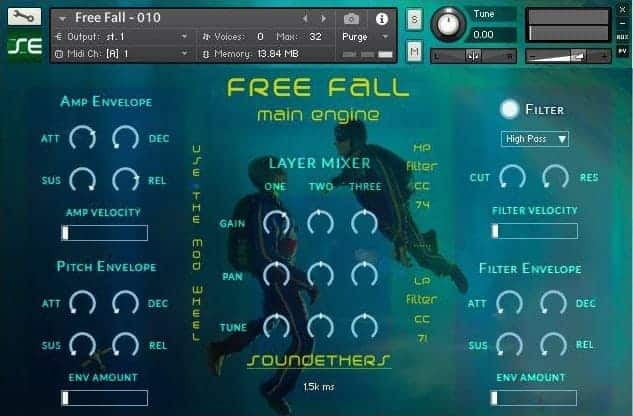 Out of all of the libraries on this list, Free Fall is the only one that I could not personally test myself. In order to get the download link to this library, you must contact the developer and they will send the link to your email. It seems they don't check their emails very often. I have attached the link below to get in touch.
From what I can see Free Fall consists of 18 presets, all with custom mod wheel automation to keep things interesting. Each preset contains 3 different layered sounds that you can mix, tune or pan to taste with the 'Layer Mixer' section.
The interface is quite clean and consists of an amp envelope, pitch envelope, high pass filters, low pass filters, and a filter envelope.
Pros
Nice interface
good filter control
3 layers to play with
Sound really good
Loads of effects
Cons
Requires full version of Kontakt
Develops are slow at responding
Not much in the way of effects
13. Leads Town Hall Organ by Samplephonics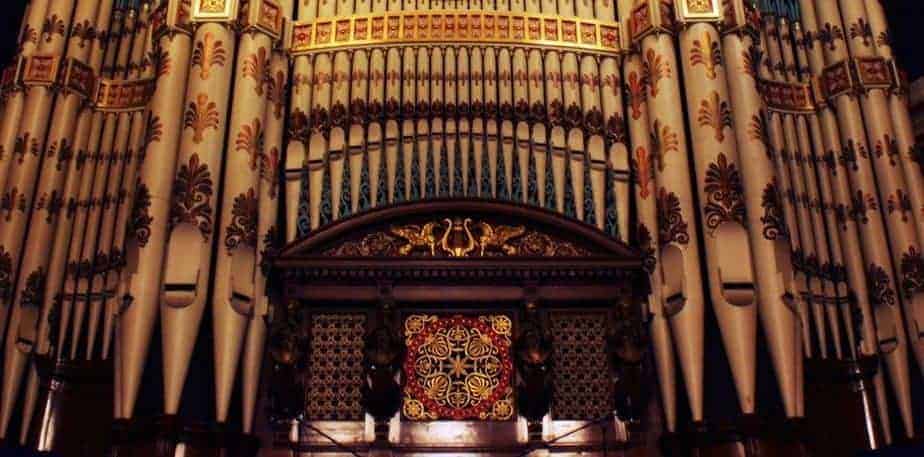 Organ Samples
3.2GB
Requires full version of Kontakt
I find it amazing that people out there put in a lot of hard work and spend their precious time to sample pieces of history, and then give it away completely for free. Thank you Samplephonics.
Leads town hall organ sounds absolutely stunning. There are 6 presets to have fun with, each containing multiple round robbins and over 10-second sample length. With every note press, you can hear its beautiful character. If you close your eyes, you even feel like you are there yourself.
The user interface consists of some simple effects such as delay, reverb, filter with cut off, res and drive, and also a master global control section.
Pros
Clean interface
Full of character
Piece of history
Easy to use
Cons
Requires full version of Kontakt
Not many things to play with
14. Shortnoise by Prodyon
Synthesizer samples
6GB
Requires full version of Kontakt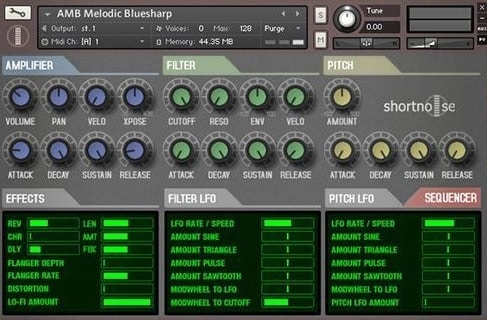 300 instruments and 150 multis!!! What?? No wonder it is a 6GB download!! Well worth it though. This is an absolute beast considering its free. Shortnoise consists of arps, pads, basses, keys, and effects, and all samples are 100% royalty-free. What more could you ask for?
The interface looks retro but it is very simple to understand with everything labeled. It consists of amp envelope, filter and filter envelope, pitch and pitch envelope. There is a bunch of standard effects such as reverb, delay, flanger, distortion, and a cool lo-fi effect. There is also a filter LFO and a pitch LFO.
The most impressive part of Shortnoise is in its beautiful, sounding multis. A multi is a set of samples playing at the same time with only one keypress. These multis are good enough to be used just by themselves. If you are looking for a massive free Kontakt library with a bunch of sounds for electronic music, then Shortnoise is definitely for you!
Pros
Loads if instruments and multis
Total control
Easy to use
lots of LFO options
Great preset browser
Cons
Requires full version of Kontakt
6GB download
15. Medicine man by Sonixinema
Steel Drums
445MB
Requires full version of Kontakt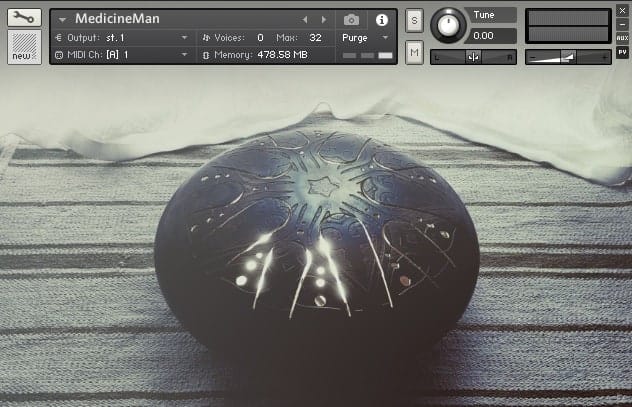 You can literally feel your body healing as soon as you hit the first note… no lies. Medicine man has the most basic interface out of all the free Kontakt libraries I have listed. It literally has no faders or knobs to turn. The only thing you can do it back away on your MIDI device and listen to its healing power.
With that said it does sound super nice and clean. Sonixinema did put a lot of effort into recording these samples because they are of very high-quality. Personally, for me, I won't use this too much as it isn't much you can really do inside of Kontakt, but if you want to do some self-healing then I guess you should give it a shot.
Pros
Easy to use because there is nothing on there
Sounds nice
Cons
Requires full version of Kontakt
Not work the 450MB of HDD space
No effects to play with
16. Gongster's Paradise by Bunker Samples
Steel Drums
229MB
Requires full version of Kontakt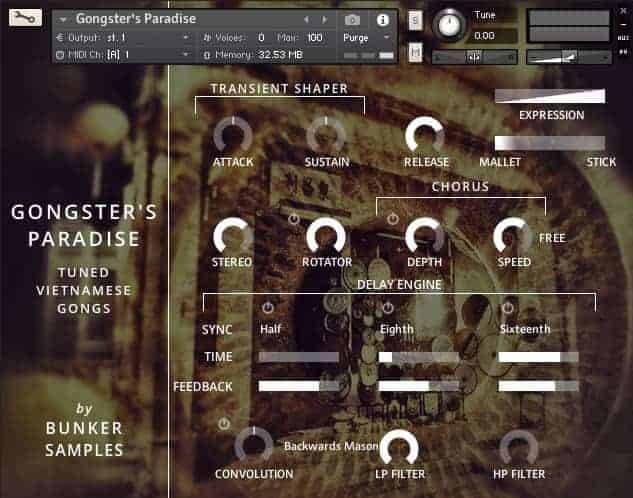 This Kontakt library was made by Coolio himself… no, I'm just kidding. It was made by Bunker Samples and it sounds awesome. I can't say I am a fan of the interface though. This library consists of some tuned Vietnamese gongs, and a few effects so you can have a little fun.
The interface consists of a transient shaper with ADSR, some chorus controls, and a delay effect. Unfortunately, the delay effect only has half, eights and sixteenth intervals. Ahh well, we can't have everything.
If you really want to gt into the vibe of these Vietnamese gongs then I recommend getting yourself a nice Bahn mi or a bowl of pho.
Pros
Sounds pretty nice
Very easy to use
Can wield some interesting sounds
Cons
Requires full version of Kontakt
The interface looks pretty crappy
Lacking delay timing
Doesn't come with Bahn mi
17. Commodore 64 Samples by Producers Blog
Game Console Samples
240MB
Requires full version of Kontakt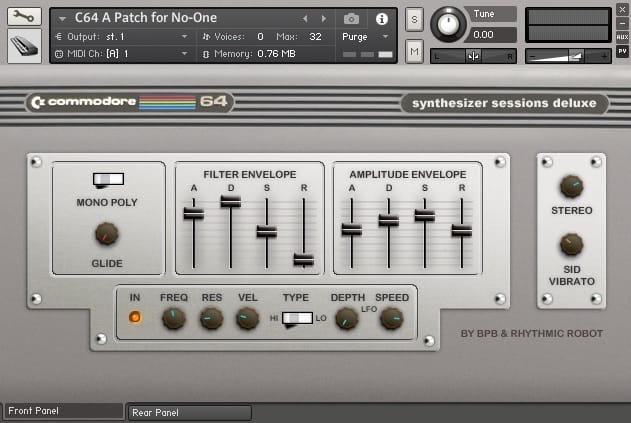 Damn, I love this library so much. In my opinion it is one of the best free kontakt libraries on this list. Although I have to give props not jus to The Producers Blog, but also to Rhymic Robot on this collaboration of absolute brilliance.
The sounds in this beast take me back to a much-loved era that is gone forever… my childhood. Listening to all of these 8bit sounds make me feel all warm and fuzzy inside. There are 32 samples and all of them can be affected by a filter envelope and an amp envelope.
You can choose to set it to mono giving you the option to glide between notes. That is my fav part. Or you can set it to poly and play chords. It is packed full of arps, glitches, blips, plucks, keys, basses and more of that cool old school stuff. Man this thing sounds so good!!
Pros
Sounds so damn cool
Super easy to use
Brings back good memories
Fun looking interface
Cons
Doesn't come with any games
Requires full version of Kontakt
18. Up-write Felt Piano by West Wood Instruments
Piano Samples
378MB
Requires full version of Kontakt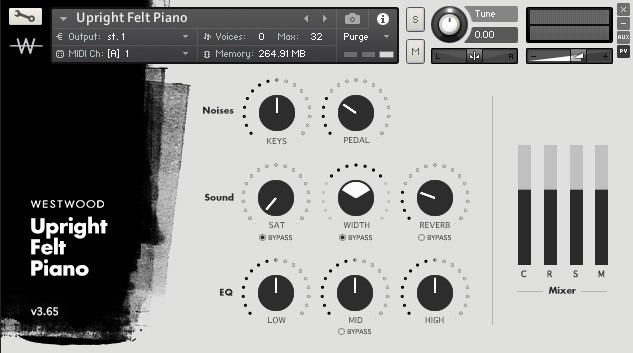 This up-write felt piano was recorded with 3 microphones to help capture the sound and room harmonics perfectly. And it really shows. The warms and organics of this free Kontakt library are amazing. The felt on the hammers takes away the harsh high end of a regular piano and replaces it with a gentle note.
The interface is very easy to use with only a few knobs and faders. These consist of the generalities like an EQ and a mixer. The mixer is capable of changing the amplitude of each microphone allowing you to mix it to your taste. There are some other features you can tinker with like reverb, width, and distortion. This is one of the best free kontakt libraries when it comes to pianos and I highly recomment it.
Pros
Warm and organic sound
Simple interface
High-quality Samples
Cons
Requires full version of Kontakt
19. Trap Gods by Beats24-7
Synthesizer Samples
1GB
Requires full version of Kontakt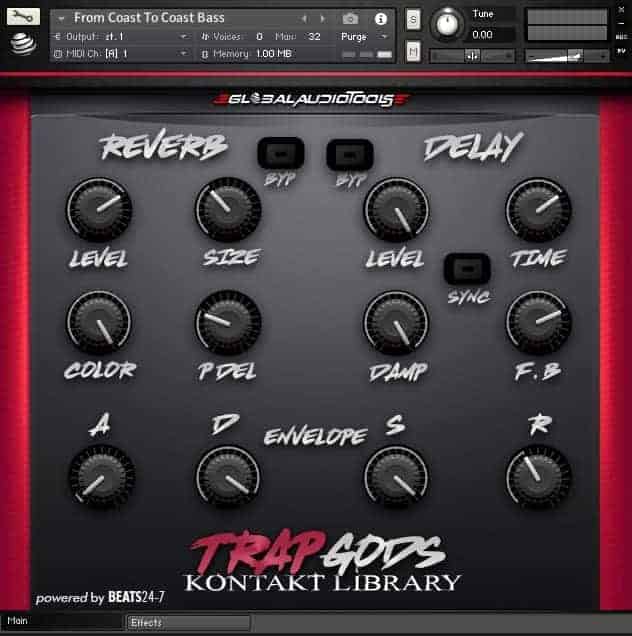 The guys down at Beats 24-7 have gone all out in 2019 and given us 66 high-quality trap samples in one free Kontakt library. What more could one want in life? These samples consist of some drums, bass, keys, pads, plucks, strings, leads and a bunch more, and better yet, all of these samples are 100% royalty-free. Meaning you won't have to pay anyone royalties when you make the next hit. YEW!
The interface is simple and clean and consists of the typical ADSR, and some effects such as reverb, delay, chorus, and twang? The twang effect is basically a distortion effect that packs a good punch. You can easily bypass whatever effect you chose by toggling the bypass button.
The cool thing about this pack is you can pretty much make an entire trap song with just this free Kontakt library. Pretty cool if you ask me.
Pros
High-quality synth samples
Can make a song from just these samples
Simple interface
Cons
Requires full version of Kontakt
Could be more filter settings
20. Nanomod by Rhythmic Robot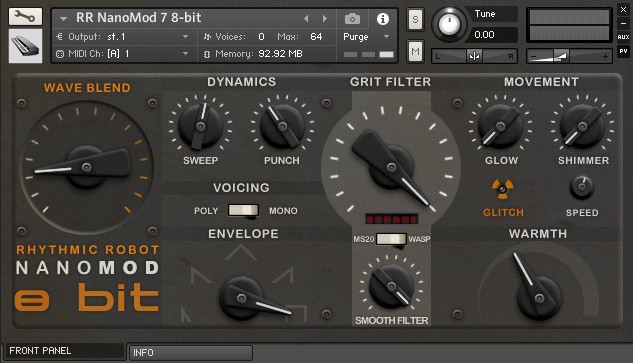 Synthesizer Samples
100MB
Requires full version of Kontakt
Rhythmic robot back again with the goods, this time with Nanomod. This free Kontakt library takes samples from a bunch of different hardware synths and implements them into a simple and clean interface. I actually like the way this thing looks.
Nanomod actually won the soundware category of the KRV developer challenge 2014 for the best soundware instrument! Good stuff!
The interface consists of a very simple envelope with only a few preset settings to choose from, some movement knobs and the beautiful grit filter located smack bang in the middle. Everything works together to give this unique library its organic warm sound.
This library is perfect for the producer who is more into that analog, gritty, warm sound. I personally love that sound and will be using this in a lot of my productions for basses or keys.
Pros
Warm and organic sound
Super nice grit filter
Cool looking interface
Cons
Requires full version of Kontakt
Filter Envelope would be nice
What is Kontakt?
For those who don't know what Kontakt is… Kontakt is awesome! But in all seriousness, Kontakt is one of the best Samplers on the market. It was made by Native Instruments to host their insanely huge array of samples, but the best part about Kontakt is its ability to add third-party free Kontakt libraries just like the ones listed above.
Third-party creators can make their own user interface and completely customize the way it looks, or they can use Kontakt's standard sampling interface. Even you can make your own sample library.
If you don't already own Kontakt, you can download the free 'Komplete Start' and you will get the 'Komplete Player' in the package, along with 2000 awesome free samples! Most of these free Kontakt libraries only work on the full version of Kontakt, but a few of them should work just fine inside of Kontact Player.
You can download 'Komplete Start' HERE.
How does Kontakt work?
As I mentioned before, Kontakt is awesome because of all the third- party possibilities that are available, and a lot of these third-party samples are free Kontakt libraries. People can sample any instrument or sound they like and implement those samples into a Kontakt library, then sell them or give them away for free.
We will only be looking at free Kontakt libraries in this article.
Because anyone can make their own Kontakt library, there are some very low-quality samples out there, and generally, they are the freebies. The quality depends on a lot of different factors such as the sound engineers' experience, microphones, sound treatment, etc.
How to install and load Kontakt libraries
Loading Kontakt libraries is quite simple once you know how. Some sample libraries will automatically install into the 'Libraries' tab, while others will have to be loaded manually. If you can't see your new free Kontakt libraries under the 'Libraries' tab, then follow these simple steps: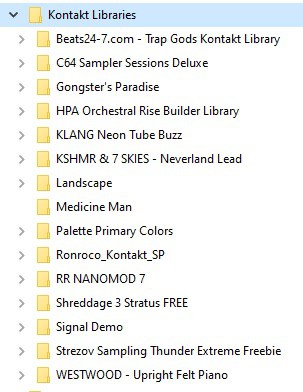 Install all Kontakt libraries into a folder called 'Kontakt Libraries'. I like to keep this folder in the same location as my Ableton VST plugins, but you can choose to keep it where you like.
Open your DAW and load an instance of Kontakt.
Click the 'Libraries' tab and see if your new library is visible.
If it is not there, click the 'Files' tab and locate the 'Kontakt Libraries' folder from step 1.
Open your desired Kontakt library you wish to load.
Open the 'Instruments' Folder.
Look for a file ending with .nki, For example, KSHMR & 7 SKIES – NEVERLAND LEAD.nki
Double click this file and your new free Kontakt library will be loaded into the sampler.
Enjoy.
Summary
So folks, there you have it! My top 20 amazing free Kontakt libraries that you should definitely own. Unfortunately, nearly all of them require the full version of Kontakt in order to function properly, so if you have a copy then go out and start downloading.
Be sure to bookmark this page as I am constantly updating with new free Kontakt libraries, but I'm sure there are more awesome free Kontakt libraries out there somewhere, so if you know of any please let me know and I will add them to this list.
I hope these free Kontakt libraries serve you as well as they have served me.
Want to check out some of my other freebie lists?
As always, good luck and happy producing.